Welcome To Kilmersdon Village Hall
'The Heart of the Village since 1992'
Site Updated on 9 April 2018
| | |
| --- | --- |
| Ideal for: | Village Hall Features: |
| Weddings | Large stage |
| Parties | Extensive floor space |
| Events | Kitchen |
| Courses | Loop system |
| Concerts | Fully accessible |
| Plays | Car Park |
We do everything to make your day a good one!
As you can see below, someone else thinks we do too - we have our accreditation for good service.
If you would like your day here at the Hall, please contact Cherry Gilham on 01761 436767
| | | |
| --- | --- | --- |
| Awarded in 2014 | | Mendip winners of the 2014 Village Hall Management Shield |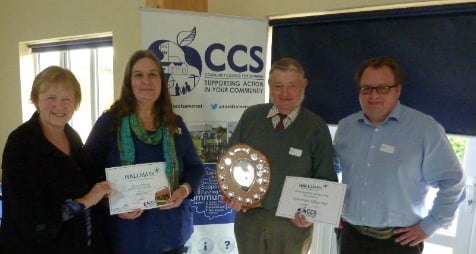 The Village Hall has been running a long time and we held our 25th anniversary celebration one morning last September, when villagers gathered to tell what the hall has meant to them and to share a celebration cake and refreshments.
Lord Hylton, accompanied by Lady Hylton, was presented with 25 years of peppercorns in a jar,
the rent owed to him since he generously gave the land on which the hall was built. Also pictured are Martin Horler, former Chair, and Val Candy, the current Chair.

He in turn presented Cherry Gilham with a bouquet
of flowers for the sterling work she has done as the
hall's manager over the last quarter century.
The Village Hall Committee with Lord and Lady Hylton

The former hall chairman Martin Horler gave an excellent resume of the hall's history;
The WI, Art Group and Gardening Club,as regular hall users, put on displays;
Dot Smith, the hall's fund raising supremo, organised yet another raffle
and Steve Wood staged a topical picture Quiz.
How We Did It
The Village Hall has come along way since the first idea was put forward. The best way is to let Martin tell you in his own words how it all started and how it has grown to the present day. It's an inspirational story of imagination and community effort to build a hall - and not just an ordinary hall. Have a read, it's well worth it!

Kilmersdon Village Day 2018
Kilmersdon Village Day will be held on Bank Holiday Monday May 28th 2018. Its theme will be mining, especially looking at the lifetime of Kilmersdon Colliery from 1875-1973, and hoping that villagers and visitors will enter into the spirit of the occasion by dressing up in costumes depicting the era.